Welcome to Rock Creek Bloodhounds
Thanks for giving us a look. If you love Bloodhounds as much
as we do, then I think you'll like what you see.
Take a look around and give us a call if you have any questions.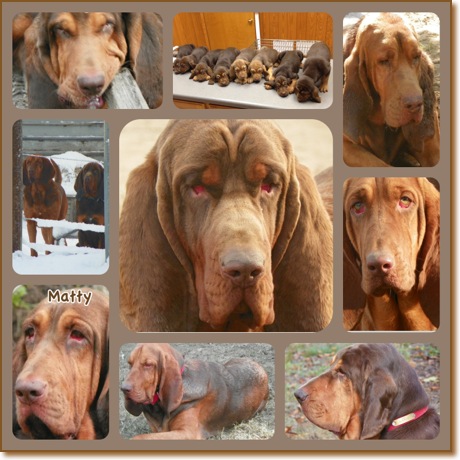 We do not have any puppies available right now.


We have had very bad luck with our babies the last several months.
On December 17 our kennel caught fire and we lost Matty a week before
she wad due to deliver puppies. We also lost a beautiful girl we were
looking forward to using for breeding. One of the prettiest we have ever
had. Our heart have been broken. We are in the process of building a new
barn/kennel.
In March, Honey was due to have puppies and she had a false pregnency.
So it's been a while since we have had puppies.

Our next litter should be ready for new homes in July.
The parents will be
Abby
&
Logan
.

Puppies must be picked up in person. No shipping of any kind.
Waiting List
For a non-refundable deposit of $50, your name can be added to our waiting
list. If that's something you would be interested in click
HERE
to open the
online form. After entering all the needed information (be sure to select male
or female puppy), print the form, sign and date the last page, put the form
and check in the mail. We will put your name on the list. We will notify you
when we have puppies so you can choose your new baby.

You must pick up the puppy. No shipping of any kind.
Color

All our adults and puppies are liver & tan, which is a chocolate
color. Some are light liver and some are dark liver, but they are all
liver & tan.


Health Guarantee/Sale Contract

We give a two year written health guarantee against genetic defects
with our puppies. Click
HERE
to open form.
All puppies are wormed every two weeks and will receive at least one
vaccination before pickup. Our vaccination schedule is 6, 9, 12 weeks old.


Registration

All prices shown are for Limited AKC registration unless stated
otherwise. Limited just means that any puppies produced by
them cannot be registered through AKC.
You can purchase breeding rights for an additional fee
.