Welcome to Rock Creek Bloodhounds
Thanks for giving us a look. If you love Bloodhounds as much
as we do, then I think you'll like what you see.
Take a look around and give us a call if you have any questions.

They got to see snow this winter.
They may have seen a dusting, but never anything like this.
We had 4" on February 11, 2014 and 8" more just 2 days later.
Click on the picture below to see more of them in the snow.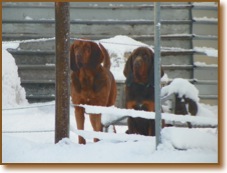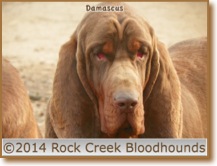 Meet Damascus. He will be the father of any puppies we have born this summer.
Puppies Available Now
We have puppies now. They will be available for pickup on June 29, 2012
There are 3 femailes that we have not received deposits for.
The parents are
Sugar
and
Damascus
.
Our puppies are priced;
Males: $700
Females: $650

Waiting List
For a non-refundable deposit of $50, your name can be added to our waiting list.
If that's something you would be interested in, drop us an email or call for details.
Males:
The only male in our litter, has a new family waiting for him on our waiting list.
Females:
There are 3 fmales in our litter. If you would like to add one of them to your family, give us a call.
Color

All our adults and puppies are liver & tan, which is a chocolate
color. Some are light liver and some are dark liver, but they are all
liver & tan.


Health Guarantee

We give a two year written health guarantee against genetic defects
with our puppies. Click
HERE
to view it.
All puppies are wormed every two weeks and will receive at least one
vaccination before pickup. Our vaccination schedule is 6, 9, 12 weeks old.


Registration

All prices shown are for Limited AKC registration unless stated
otherwise. Limited just means that any puppies produced by
them cannot be registered through AKC.
You can purchase breeding rights for an additional fee
.